Heidi took me to see Shonen Knife on Sunday. It was the last show of the Australian tour to promote their new album "Super Group".
Here's a video of the title song of their new album:
Doors opened at 8pm, but it wasn't until 10:30pm that Shonen Knife took to the stage. The Novocaines opened for them (at around 9pm?) and they were freaking loud (although also rocking and good times). Playing the harmonica is always a nice touch.
The new Shonen Knife line-up seem to have a great rapport and exuded a very fun and friendly vibe – which perfectly complements their music. It was smiles, head-banging, group poses, and reaching out to the crowd. The brief stories thrown in offered insight into inspiration for some of the songs (not that meaning is usually deeply hidden in their music!).
After the show, Heidi bought some t-shirts and a CD which the band signed shortly before Naoko kindly smiled for this (horrendous-quality camera-phone) photo with Heidi: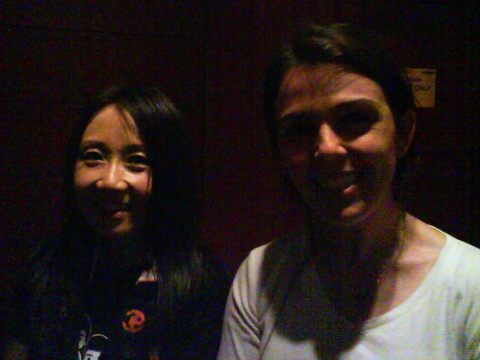 We've been listening to the new CD in the car (and now on my computer). It's fun and unpretentious – it really captures the band's personality. The song "Deer Biscuits" reminds me of Nara and "BBQ Party" gets stuck in my head and makes me hungry ("Pig Out, pig out, pig out. Don't worry about your diet.")
I checked out their website and enjoyed seeing Etsuko's blog post on Perth and their gig at Amplifier. I hope they come back to Perth sometime.